Biomimetic Gift Ideas Inspired by Nature
Posted: 3:12PM December 23rd, 2013 | Comments
Submitted by Danielle Russell
Happy holidays from all of us at Sustain Dane!
Not yet finished with your holiday shopping or crafting? It's all right – you've got a few hours left. If you are on the hunt this holiday sea
son, let nature inspire your spirit of giving. Not in a leopard-print-snuggie kind of way, but rather in a well-designed biomimetic way.
Biomimicry is the field of imitating natural systems and models for the purpose of solving complex human problems. In recent years, it's led to some stellar and life-changing innovations that influence how we design everything from cities to consumer products.
In anticipation of our next Bioneers encore screening night on biomimicry (details here), we found five awesome nature-inspired gift ideas that are on our wish list this year -
1. AquaFarms, a New Kind of Pet Fish
Aquafarm is a self-cleaning fish tank that grows food. It's based on aquaponics, a closed-loop, sustainable farming system that marries aquaculture (raising aquatic animals) with hydroponics (growing plants without soil). Aquaponics uses 90% less water than traditional farming. This kit is available through www.backtotheroots.com.
For more bottle biology ideas, check out UW-Madison student Wally Graeber's website.
2. A Zero Emissions Brewery Ecosystem
For the overly ambitious home brewer in your life (which there are many in Wisconsin) check out the Zeri Beer Brewing System. Modeled after resourceful tropical rain forest ecosystems, this is a closed loop brewing "ecosystem" that puts to use spent grains and waste water by introducing mushrooms and pigs into the system.
Ok, so it's really designed for a commercial brewery, but we love the idea. Read more here.
3. Better than New Rims
Say goodbye to flat tires forever…eventually…hopefully. Emerging airless tire technologies borrow the structural integrity and flexibility of a honeycomb to make tough terrain a cakewalk. The first commercially available airless tire is attached to a Polaris ATV (the technology acquired by a Wisconsin-based startup, Resilient Technologies) and other current uses include military vehicles. We're crossing our fingers for widespread availability for bicycles – just think, no more packing hand pumps and spare tubes on long summer rides.

4. Buffalo on Ice
Across Wisconsin, ice fishermen and fisherwomen are already out in droves, braving the cold and wind on Wisconsin's lakes. Now, if they only positioned their huts like a herd of buffalo, they might be able to stay out longer, patiently awaiting the big catch. That's what Canadian-based Patkau Architects did. The company designed lightweight plywood shelters for ice skaters in Winnipeg that mimicked the aerodynamic position of herds of buffalo. Read more.
5. The Shark's Paintbrush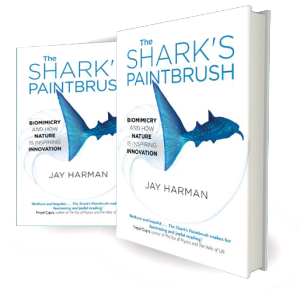 Jay Harman is a biomimetic visionary. An award-winning entrepreneur and biomimetic inventor, Jay Harman has taken a hands-on approach to his lifelong fascination with the deep patterns found in nature. In the process, he has founded and grown multi-million-dollar research and manufacturing companies that develop, patent, and license innovative products, ranging from prize-winning watercraft to interlocking building bricks, afterburners for aircraft engines, and non-invasive technology for measuring blood glucose and other electrolytes.
In his latest book, The Shark's Paintbrush, Jay introduces us to pioneers who are making technological breakthroughs by uncovering and copying nature's hidden marvels. Read more.
Hear Jay Harman speak at the next Bioneers encore screening on January 7th, 2014. Details here.
Comments on "Biomimetic Gift Ideas Inspired by Nature"
blog comments powered by

Disqus