Join us for the 15th annual Sustain Dane Summit on Friday, November 3, 2023.
Join us Friday, November 3 for the 15th annual Sustain Dane Summit, a conference for sustainability leaders to learn, connect, share, reflect, and build new skills. This year the Summit will be held at the Monona Terrace Community & Convention Center from 7:30 AM – 3:00 PM.

Keynote Speaker Diamond Spratling, an award-winning environmental justice activist, storyteller, and public speaker. In 2019, she founded Girl + Environment, the national non-profit organization designed to educate, engage, and empower Black and Brown girls, women, and non-binary folx to stand up for environmental justice in their own neighborhoods. Diamond's leadership in environmental justice and beyond is driven by her own lived experiences in Detroit as well as the motivation to dismantle health, racial, and environmental inequities in other Black and Brown communities alike.
In addition to her work at Girl + Environment, she has helped many cities, companies, and organizations globally to adopt meaningful, equitable processes that prioritize community and protect our planet.
Agenda
Breakfast & Networking 7:30—8:30
Welcome, Keynote, & Workshop 8:30—10:00
Break 10:00—10:30
Interactive Climate Project Roundtable 10:30—11:45
Lunch, Art, & Networking 11:45—1:00
Transformative Local Projects 1:00—2:00
Live Forward Awards 2:00—2:30
Closing & Networking 2:30—3:00

Interactive Climate Roundtable
In this rapid roundtable of presentations, local leaders will share stories of their successful sustainability projects (3-5 min per project).

Cristina Carvajal, Founder & Executive Director, Wisconsin EcoLatinos
Cristina will share her work with the Latino Academy of Workforce Development Environmental Justice Air Quality course through the Bilingual Leadership Academy. Read Cristina's complete bio here.
Ben Reynolds, Director of Operations, Reynolds Transfer and Storage
Ben joins the Climate Roundtable to tell the story of Reynolds Transfer & Storage's continuously expanding solar installations and how he uses financial incentives to make them a cost-effective climate solution. Read Ben's complete bio here.
Cheryl DeWelt, Environmental Education & Garden Manager, Madison Children's Museum
Cheryl will share the design of the Madison Children's Museum Sustainability Plan and their green initiative's focus on children and the future. Read Cheryl's complete bio here.
Transformative Local Projects
This segment will feature two transformative local projects: the Dane County Department of Waste and Renewables Sustainability Campus and the Lake Monona Waterfront redesign. There will be an opportunity for Q&A with the speakers after their presentations.

Ed will share about the Lake Monona Waterfront (LMW) master plan which aims to transform Madison's lakefront into a beautiful, activity-rich signature park that embodies the character and values of the city. He will discuss the sustainability & climate resilience elements of the LMW master plan. Sasaki is the lead design firm on this project team, whose team of local and national landscape architects, architects, engineers, and ecologists includes GRAEF. Read Ed's complete bio here.

John will talk through the Dane County Department of Waste and Renewables' vision for the next landfill site, which includes development of a sustainable business park or "Sustainability Campus" to divert waste and create local circular economies. Read John's complete bio here.
Live Forward Awards
The Live Forward Awards acknowledge changemakers and inclusive leaders who are locally promoting thriving sustainability, community healing, and resiliency. A nominee's work will ideally impact one or more areas of holistic sustainability: a healthy environment, equity & social well-being, and a just economy. Nominees receive recognition at the Summit and awardees receive a $250 prize. The 2023 nominees are:
Ben Austin, Pradyut Kumar Bhattacharya, Cristina Carvajal, Dane County Youth Environmental Committee, Monona Public Library, Brandi Grayson, Ruthanna Hutton-Okpalaeke & Cooper Talbot, Alexandra Klabacka & Green Team, Tim Lindstrom, Susan Millar, Devine Nzegwu, Martha Pfaff, Carol Phelps, Matt & Marie Raboin, Red Caboose Child Care Leadership Team, Xanthe Saalmann, Kyla Smith, Sasha Stone, Stoughton Sustainability Committee, Izzie Tobin & McFarland Green Team, Brenda Vetter, Caitlin Williamson & Lindsey Taylor, Andrea White, and Willy Street Co-op Executive Team & Staff.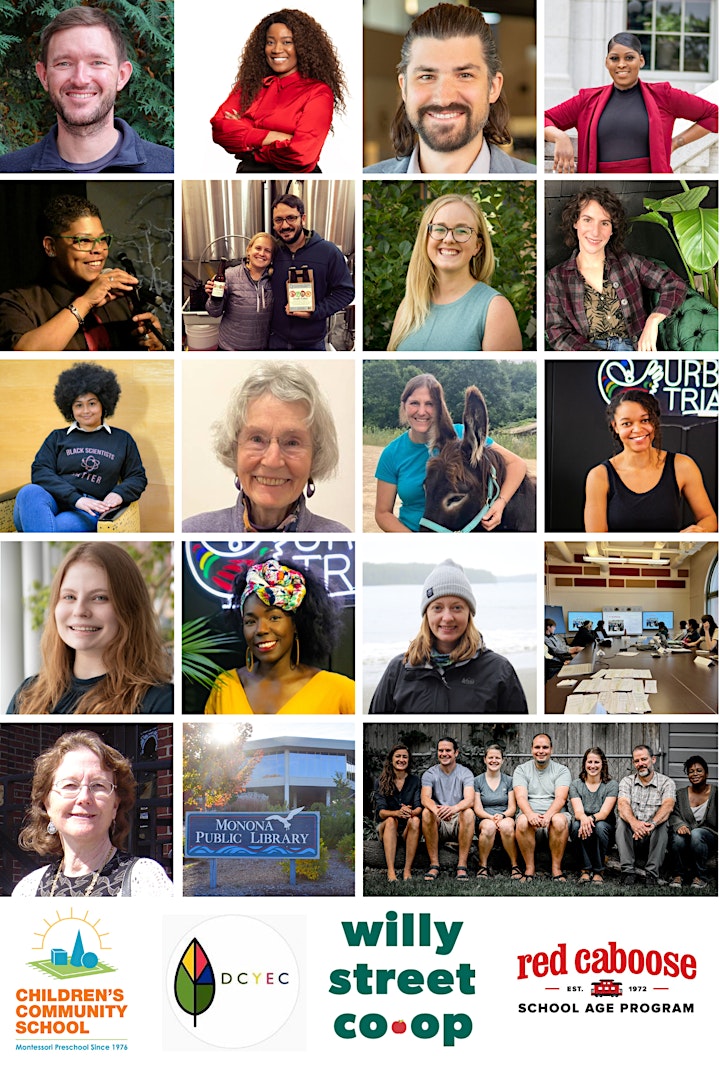 Scholarships
Scholarships are available—email hello@sustaindane.org for info.
Registration Deadlines
Register by October 28 to ensure we can accommodate dietary requests and to receive a printed name tag.
Getting There
Car parking at Monona Terrace should return to normal when construction ends in September. Alternate parking is available in the Wilson Street Garage 20 E. Wilson St.
Input your address at RoundTrip for information on bike, bus, and carpool routes.

Member Registrations
Member organizations receive complimentary registration based on their membership size and level. See below for the number of registrations for each size & level.
Attendees that are requesting time for professional development from their employer can download this sample email text and flyer.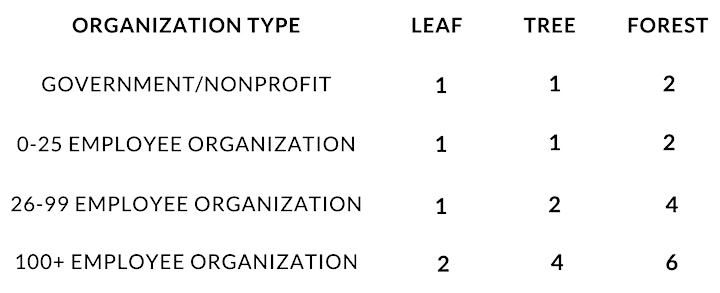 Thank you to our sponsoring partners and supporting members!
Interested in additional visibility at the Summit? Learn more in the sponsorship packet here. Sponsorship levels range from $500 to $10,000. Through sponsorship of the 2022 Summit, you can:
Elevate your organization's commitment to sustainability in Dane County
Participate in meaningful learning, networking, and professional development
Gain business development as a leader in corporate social responsibility
Be visible through extensive marketing, press releases, and online promotions
Email Sam Worden at samantha@sustaindane.org to discuss your desired sponsorship level. For maximum recognition opportunity, secure sponsorship by September 30, 2023.