Join us for the 12th annual Sustain Dane Summit on Thursday, December 3, 2020.
The Sustain Dane Summit is a day filled with education, inspiration, reflection, and connection!
This year our theme is Decade to Deliver. 2020 marks the beginning of a decade where we must accelerate our actions to deliver results on holistic sustainability: a healthy environment, a just economy, and social wellbeing for all. Our program of meaningful speakers and conversations with participants will focus on global solutions and local actions we can take to create a more thriving, equitable, and resilient community.
Program Overview
Decade for Drawdown Keynote
8:30AM—9:30AM

Crystal Chissell | Vice President of Operations and Engagement, Project Drawdown
Project Drawdown is the world's leading resource for climate solutions. Crystal's presentation will include
Drawdown's 2020 update on their body of research that seeks to help the world reach "Drawdown"— the future point in time when levels of greenhouse gases in the atmosphere stop climbing and start to steadily decline.
Stories about implementation of solutions from communities around the world.
Her personal experience with social justice and equity in the climate movement.
Discussion among participants about actions in our sphere of influence in a post-keynote workshop.
Delivering on Climate, Health & Equity in Our Region
10:30AM—11:30AM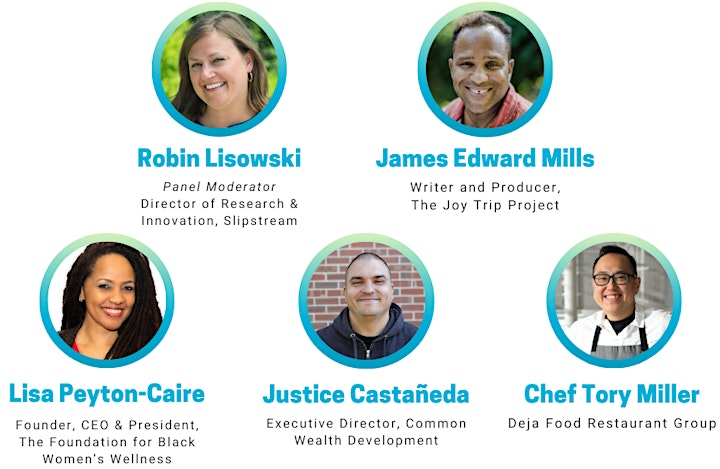 This moderated panel of local leaders will discuss the intersection of climate, health, and equity and share how their work is shaping a thriving and resilient community for all in the decade ahead.
Moderator: Robin Lisowski, Director of Research & Innovation, Slipstream
Panelists: Lisa Peyton-Caire, Black Women's Wellness, James Edward Mills, Joy Trip Project, Justice Castañeda, Common Wealth Development, Chef Tory Miller, Deja Food Restaurant Group
Connect to Your Community
11:30AM—12:30PM
Participate in a welcoming and enjoyable networking session with other Summit attendees. We will have some activities and prizes to support building new relationships and strengthening existing ones. This networking time will foster meaningful and fun connections. Feel free to come and go, as you're available.
Accelerate Sustainability Showcase
2:00PM—3:00PM
Over 40 local business and organization leaders participated in our Accelerate Sustainability Workshop in 2020. In this session, Sustain Dane will provide a summary of the program and then Tribe 9 Foods, Emmi Roth, Dane County Waste & Renewables, Willy Street Co-op, and Select Specialty Hospital will share their sustainability success stories and advice for other organizations on a sustainability journey. The showcase will premiere live and have the opportunity for conversation and Q&A.
Live Forward Awards
3:00PM—4:00PM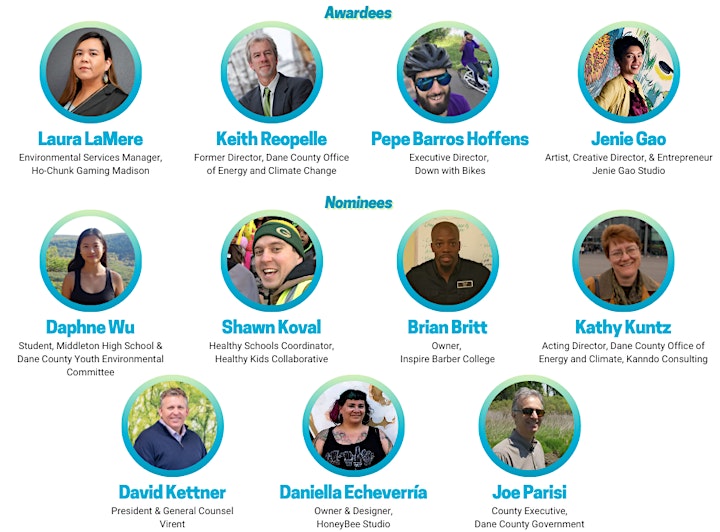 Join us to celebrate the 2020 Live Forward Awards. The Live Forward Awards celebrate changemakers dedicated to creating a community based on holistic sustainability: a healthy environment, a just economy, and equity & social wellbeing for all. The awards will premiere live with the opportunity for conversation and Q&A.
Additional Features
Recordings
Post-event recordings will be provided to registrants. Re-watch your favorite sessions and share with your professional and personal networks to spread impact.
Generous scholarships are available – email hello@sustaindane.org for info.

Thank you to our sponsors!
Interested in supporting the Summit? Download the sponsorship packet here. Email Lucia Hunt at lucia@sustaindane.org to discuss your desired sponsorship level and/or create a personalized sponsorship for your organization. For program recognition, secure sponsorship by November 1, 2020.